Kehilat Gesher is the only progressive, bilingual synagogue in the Paris region, offering all services in English, French, and Hebrew. Founded over twenty years ago, our congregation includes over 170 families and welcomes some 450 individuals for our annual High Holy Day services. Since 2020, Kehilat Gesher has had spacious premises located at Porte de Champerret in the 17th arrondissement.
As our name suggests, Kehilat Gesher is a community dedicated to building bridges between French- and English-speaking nationalities, between Sephardic and Ashkenazi heritages, and between spiritual tradition and modern life.
A liberal, egalitarian congregation dedicated to the promotion of Jewish values, Kehilat Gesher is committed to openness and exchange. Our educational and cultural activities include a wide variety of classes, ateliers, concerts, and lectures for adults, teens, and children as young as three years old.
Kehilat Gesher helps its members celebrate and honor the fundamental passages of their lives, be it births (brit mila), marriages, or funerals. Forty children are enrolled in our Talmud Torah, and the congregation organizes around fifteen Bar and Bat Mitzvahs every year.
A progressive synagogue embracing both Reform and Conservative values, Kehilat Gesher supports equal rights and responsibilities for both men and women in all religious thought and practices. 
Kehilat Gesher is known for its warmth, its openness, and its commitment to social justice through Tikkun Olam: "repairing the world." We are members of the World Union for Progressive Judaism and have contributed to the constitution of the Fédération du Judaïsme Libérale Francophone en Europe (the Federation of French-speaking Liberal Judaism in Europe).  We are also one of the founders of the new Assemblée du Judaïsme Libéral, which brings together liberal Jewish communities in France.
---
 "Kehilat Gesher – The Beginning"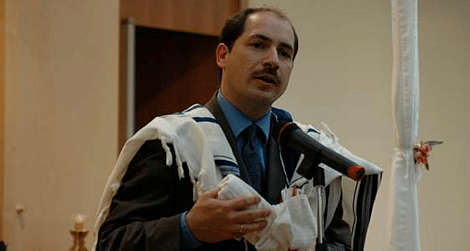 What happens when five Franco-American couples, with young children and adolescents, living in and around Saint-Germain-en-Laye, a western suburb of Paris, and in search of a meaningful liberal Jewish education and community, meet a wonderful young, energetic, cultured rabbi from Oregon who is engaged to the first female rabbi in France and Europe? The answer is easy. You don't let him go!
Between 1991 and 1993, we, as Jewish parents, were trying out various Talmud Torah classes for our children, including our local Orthodox synagogue, which definitely did not correspond to the Jewish education we wanted to transmit. We would get together for potluck Kabbalat Shabbat meals and Jewish holidays with a group called the Jewish Connection. I first met Rabbi Tom at a Passover seder; and when we found out he was going to marry Pauline Bebe, we just knew that this American rabbi would be staying in Paris.
Very shortly after meeting Rabbi Tom, he literally saved the day when he proposed to continue my daughter's Jewish education once a week at Copernic where he was teaching part-time. She had been enrolled in Hebrew classes at the orthodox synagogue in Saint Germain-en-Laye and was quickly losing motivation. As you all know, our Rabbi Tom can remedy this with a snap of the fingers. In fact, our daughter, Camille Malkah Joseph,  along with Juliette Adida, became the first Batei Mitzvah of KG. We actually held our first Bnei Mitzva classes every Sunday "chez nous" in Saint-Germain-en-Laye just before lunch, so I, inadvertently, got to participate in these enlightening, ethical, pre-teen discussions from my kitchen. Our first Bnei Mitzva students were Ezra Konvitz, Camille and Juliette, later joined by Daniel Jones and Ilan Kaufer. Isa and Josef Konvitz became KG members very shortly after its incorporation and definitely rank among the KG pioneers!
Betsy Matheny, founding member and secretary of KG, recalled that the initial invitation went something like this: "We are five families looking for a great rabbi, how about making our own synagogue in Saint-Germain-en-Laye?" Betsy's son had attended a Jewish school back in the States called "Gesher" (bridge), and Rabbi Tom suggested that we call the new community "Kehilat Gesher," the community of bridges. The name was a winner.
The five original families were, in fact, a good cross-section of American and French, West Coast/East coast, Ashkenazi and Sephardi. One could say this made up our minyan with Jil and Jean-Pierre Deheeger, Betsy and Ted Matheny, Dina and Jean-Marc Chetrit, Pierre-Jean ז״ל and Gina Hassan, Michelle and Noé Green-Levasseur. You can imagine that with this small group of founders, several of us were on the Board. Our very first KG president was Jil Deheeger, Jean-Marc Chetrit was the treasurer, and Betsy Matheny was the secretary. Pierre-Jean and I served as vice-presidents. We signed the papers incorporating KG at our apartment in Saint-Germain-en-Laye, but our first legal address, for a couple of years, was the home of Dina and Jean-Marc Chetrit (the treasurer) in Poissy.  We celebrated KG's one year anniversary at our apartment, lighting our first candle. (There is a photo print to prove it; I am still looking for it!).
Betsy Matheny recently sent me one of our first Board meeting minutes, dated April 28, 1993, when we discussed and approved  the name Kehilat Gesher with the following description : "The French Anglophone Jewish Congregation – a welcoming community serving Paris and the western suburbs." I am so proud to say that we have fully retained the epithet "welcoming," which is always the feedback we get from people who have come for the first time. We began to form committees for security, newsletters, events, High Holidays, education and publicity, which I'm sure still rings a bell today! It was always a scramble in the beginning to find a suitable location for the High Holidays accessible to Paris and public transportation.
The first year we offered Kabbalat Shabbat services, Talmud Torah, Bnei Mitzva classes, adult education, and, of course, High Holiday services. Most of the classes and services took place in people's homes on a rotating basis. We held some of our first Kabbalat Shabbat services as well as Talmud Torah classes at the Aumônerie of the Lycée International in Saint-Germain-en-Laye before we eventually rented our first venue, 10, Rue de Pologne, in the same building as Alpha Optical today and too close to the Poissonnerie, especially in late springtime when we opened the windows! It was quite a big step for KG to have its very own shul.
It was also very early on that we began conducting Friday night services downstairs at Goldenberg's restaurant in the 17th arrondissement.   For several years, we held Tishri services at the Orée du Bois restaurant at the Porte Maillot, which became legendary, as it was closed in 1999 due to a mysterious fire. I will always remember the year I was head of the security committee and was told we had to evacuate the building in the middle of Rosh Hashanah services. I went up to the bima ever so calmly and whispered the news in our Rabbi's ear!
So you can see that we have come a long way since 1993. Last December, as we lit the fourth candle of Chanukah, the light of our first anniversary candle caught my mind's eye and linked the past with the present. I was beaming at the inauguration of our new synagogue, Porte de Champerret, our new home, so happy to witness the determination, commitment to education and ethical values of Progressive Judaism, and the warmth of our community of bridges. May we never lose that pioneering spirit that allows Kehilat Gesher to move forward while keeping our traditions alive.
---
Shalom to all,
Michelle Green
March 6, 2022